Nestled in the metropolitan region and a mere hop from Narita Airport, Kamogawa City beckons as the idyllic haven for travelers in search of a distinctive respite from Tokyo's hustle. Uncover breathtaking natural vistas, delve into a tapestry of cultural immersion, and embark on exhilarating adventures, all conveniently within your reach!
From Narita International Airport and Chiba
By Train
Take the JR Narita Express or Airport Narita train to JR Chiba Station.
At Chiba Station, transfer to the JR Sotobo Line bound for Awa-Kamogawa Station.
(Note that the JR Uchibo Line also goes to Kamogawa, but the train ride is additional 40 minutes longer than the Sotobo Line.)
For specific train times and routes, search Hyperdia (http://www.hyperdia.com/en/) to AWAKAMOGAWA.
By Train/Bus
Take the JR Narita Express or Airport Narita train to JR Chiba Station.
From the East Exit of JR Chiba Station, ride the Highway Bus Kapina at bus stop 21 (located near Yodobashi Camera).
Be sure to confirm your bus stop and time ahead of your departure.
By Car
From Narita Airport, go eastbound on the Shinkuko Express Way, and go on the Higashi Kanto Highway.
Go southbound on Higashi Kanto Highway and merge onto Tateyama Expressway.
Get off at the Kimitsu Interchange.
Turn left onto Rt. 128. Continue straight until you reach Kamogawa.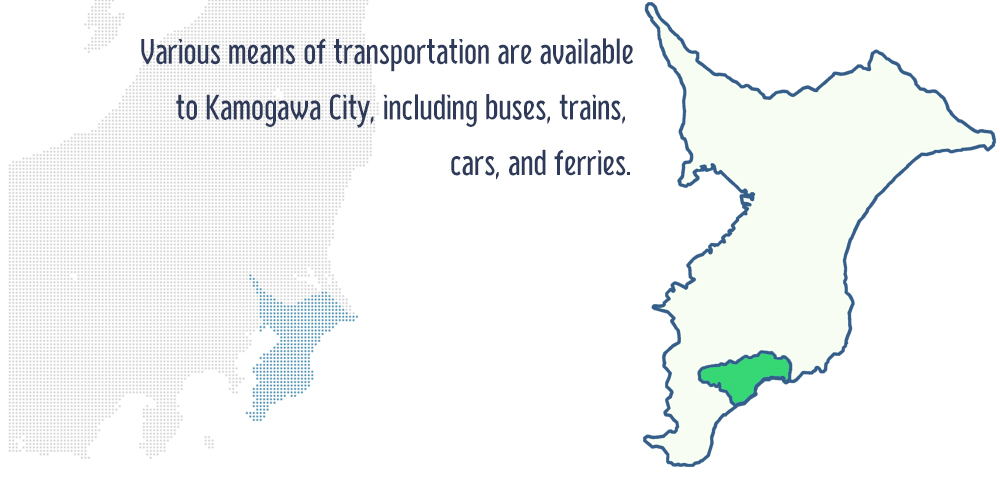 From Tokyo and Haneda Airport

By Train
1) Limited Express Train "Wakashio"
Total time: 1 hour, 50 minutes
Board the Wakashio bound for Awa-Kamogawa, which departs from the JR Keiyo Line platform at Tokyo Station. No transfers necessary.
2) Normal Train
Total time: 2 hours, 40 minutes
a) Take a JR Sobu Line train bound for Chiba or Kazusa-Ichinomiya at Tokyo Station.
b) Get off at Chiba Station and transfer to the Sotobo Line.
c) Board a Sotobo Line train bound Awa-Kamogawa Station. (Note that you can also get to Kamogawa via the Uchibo Line, which also leaves from Chiba Station, but it will take an additional hour to arrive at Kamogawa.)
By Bus (and Monorail from Haneda)
When coming from Haneda International Airport, take the Tokyo Monorail to Hamamatsucho Station and board JR Yamanote Line to Tokyo station.
1) Tokyo → Awa-Kamogawa via Highway Bus Aqusea
(total time: appr. 2 hours)
The bus for Kamogawa "Aqusea" leaves from bus stop . However, buses for Katsuura, Kimitsu, Choshi, etc. also depart from this stop, so please make sure that you are boarding the correct bus. The bus fare is 2,400 yen. When going from Tokyo to Kamogawa, you pay when you get off the bus. When returning to Tokyo from Kamogawa, you pay when you first board the bus.
There are five stops within Kamogawa: Fukushi Senta-mae (Welfare Center), Kamogawa Shiyakusho Iriguchi (Kamogawa City Hall), Awa-Kamogawa Eki (Awa-Kamogawa Station), Kamogawa Sea World, and Kameda Byoin (Kameda Medical Center).
2) Tokyo → Awa-Kominato via Highway Bus Awa-Kominato/Onjuku Line (total time: appr. 2 hours)
Board the bus at Tokyo Station (Yaesu Exit).

Kamogawa City Community Bus

Riding the Community Bus
In order to make transportation around the city more convenient for residents and visitors, the Community Bus travels through three routes all over the city: the North Route, the Seicho Route, and the South Route.
The pdf files linked below contain fares for major destinations, as well as bus times for all routes.
When utilizing the Community Bus
Some of the routes overlap in the Saijo, Tojo, and Kamogawa districts. Please check your destination and make sure that you are boarding the correct bus.
Avoid waiting around curved roads, sudden slopes, and other places difficult to see. Stand at a safe place where it is easy for the bus driver to spot you.
As soon as you see the bus coming, signal to the driver so that s/he knows to stop.
Please be aware that the bus driver may not be able to let you off at a certain location because of traffic, obstacles, etc.
Fares for the Community Bus
Base fare for the Community Bus is 140 yen, and increases accordingly to the total distance you travel.
Children who are elementary school students and younger, as well as those who present their Record of Physical Disability (Shintai Shogaisha Techo) or Record of Mental Disability (Ryoiku Techo) can utilize the Community Bus at half price.
Children who have not yet reached elementary school age can ride the bus for free when accompanied by a parent or guardian.